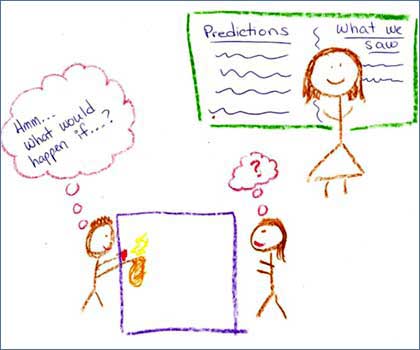 Teacher: Teresa
"Draw your students learning science."
Strand 3: Manipulate, test, explore, predict, question, observe and make sense of the natural and physical world.
This drawing depicts students working on an investigation using materials such as a beaker. On the board, the teacher has written "predictions" and "what we saw." We considered this aspect of the drawing as evidence for predicting and observing. Students in the drawing are questioning and testing as represented by the comment bubbles, "?" and "Hmm…what would happen if…?" The drawing received a score of four for evidence of manipulating materials, predicting, observing, questioning and testing.